Brain Tanning by Doug Barker
June 4 @ 2:00 pm

-

3:00 pm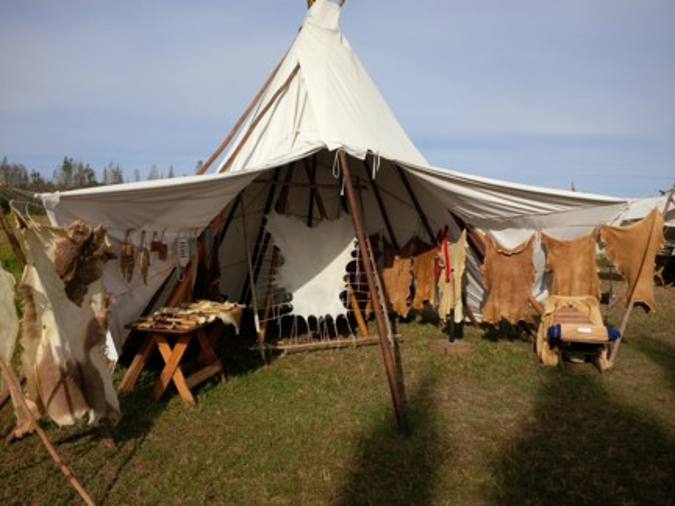 Maker of Brain Tan Buckskin, demonstrator and lecturer, and Florida Frontiersmen member for around 20 years.
Doug has been brain tanning for approximately 25 years, and always gets the question, "How did you get started?" For Doug it started when he was a child with his love for Native American arts and life, and like many of us, from watching TV westerns and movies like Daniel Boone and Davy Crocket.
The first book that got him started was Indian and Camp Handicraft by W. Ben Hunt. He learned from this book how to make moccasins, feather work, rawhide, and he even attempted to make a small tipi and wigwam. He always had a fascination with leather, furs, and becoming a fur trapper and tanning his own hides someday. He did trap and skin a few small animals, but never got beyond salting and drying out the skins for rawhide.
Many years later when visiting a living history event with his family Doug heard about an event called the Alafia River Rendezvous. He had to check it out, as it brought back all those fantasies he had as a kid. He knew this could be for him.
Doug took his eldest son, of about 8 years old, and went to the Alafia River Rendezvous. It had everything he was hoping for and more. It was there that he was introduced to brain tanning buckskins by Dave and Diane Chambers. [Editor's note: Dave and Diane participated at the Alafia for many years. Diane helped at the Alafia school. She is featured in Muzzleloader Magazine's The Book of Buckskinning III] Doug was blown away and tried to get as much information about the brain tanning process from Dave. If Doug really wanted to learn the brain tanning process basics, Dave advised him to search for books on the subject. There weren't many books on the subject at that time, but he did finally find a few good ones.
Like many handcraft skills learned from books, or teachers (if your lucky to have one), to actually learn the skill comes from doing it. Once Doug got his hands into it, he began to understand what he had read about fleshing the hide, scraping the grain layer, braining the hide, and (the real work) softening the hide. It took many hides and years to get a consistent process, and even then, you will get hides that will challenge what you've learned. Doug says that he is still learning little things about brain tanning, and most likely will until the day he hangs up the craft.
He collects hides from hunters and does his processing during hunting season; flesh and grain hides into the spring, brain and soften hides throughout the spring and summer, and he smokes the hides in the fall. He does that at the living history events where he demonstrates.
We are the lucky ones to have Doug teach us this very old skill/art/craft and learn its history.