Muzzleloading, Hawk & Knife, and Archery
If you have never shot a muzzleloader, thrown a hawk or knife, shot an old style bow, or are a hard core competitor, the Florida Frontiersmen Inc. range is the place for you.
Gun Ranges
There are four covered ranges; a 200 yd, 100 yd paper, primitive, and multipurpose ranges with an additional clay throwing range and a beautiful woods walk range that meanders through a Florida swamp.
Permitted firearms and General Equipment Rules
Black powder only 
Caplock, number 10/11 or musket cap 
Flintlock 
Wheelock 
Snaphaunce 
Can use single or double set triggers 
All firelocks must have a "half cock" position or equivalent to render the gun safe and the trigger ineffective 
Open sights, buckhorn sights and peep sights all fixed without assistance of optics – No open fiber optic sights 
To be used on the Trade gun range, a smooth bore, flintlock with a front beaded sight or blade only
Round ball with patch – no sabots and/or formed conical projectiles – all loading must be done from the muzzle not the breach. See exceptions for cartridge matches at State events. Buckshot must be used on the shotgun range.
No brass or paper cartridges can be used to load firelocks on any range
No inline black powder rifles and/or pistols can be used on any range
Navy, Colt and other revolvers of the mid-1800's, can be used provided that only one cylinder is loaded at a time.
Spotting scopes and tripods are permitted when set up behind the loading tables on the paper range. No modern spotting scopes are permitted on primitive and woods walks.
Wooden loading and supply boxes are preferred but modern boxes are accepted.
Hawk and Knife Range
Never thrown a hawk or knife? No problem. We have loaners and teachers.
RANGE INFORMATION: The Hawk & Knife is a covered range with an additional wooden practice wall.
Equipment: Tomahawk shall have no more than a four inch overall blade width and shall have a wooden handle. Knife shall be of a design typical for throwing (no kitchen utensils). Max width of knife blade 2.5 in. Overall length of knife shall not exceed 16 in. and handle shall not exceed one third of the overall length. No machete styles allowed. The knife must have a handle, leather slabs preferred, no straight metal devices.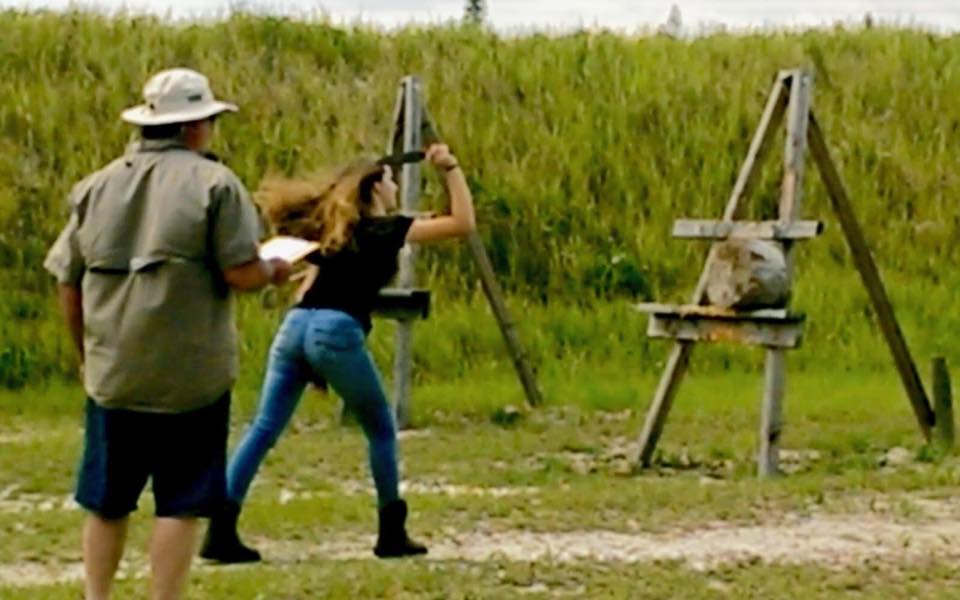 Archery Range
Never shot a bow? No problem. We have loaners and teachers.
The Florida Frontiersmen, Inc. has a unique archery range complete with 3D targets that winds through a Florida swamp. Archery matches are also held at the multipurpose range.
Bows
Wood bows, wood laminated bows, horn bows, with or without natural material backings
NO FIBERGLASS
NO SIGHTS
Arrows
Wood, cane, or natural materials ONLY
Feathers or natural materials ONLY for fletching
Field points ONLY
NO PLASTIC NOCKS